Organic Farming - The Woodhorn Group
Our organic farming activities extend to 1500 acres on the Chichester Plain and the South Downs. 
At the centre is our 250 strong organic dairy herd producing organic milk for The Organic Milk Cooperative (OMSCO) who supply to major food brands and national supermarket chains.
The remainder of the farm produces a range of organic arable crops including wheat, beans, peas, oats, spring barley and maize. Much of this is grown to maximise the amount of home grown feed for our cows, but we also sell feed and seed to other organic farms. The wheat produced also goes to make organic bread.
Organic farming is a way of farming that protects and encourages wildlife whilst looking after the health of the soil. Instead of relying on chemicals, we strive to work with nature to feed the soil and control pests. We use crop rotations and clover to also help build fertility in the soil.
There are plenty of benefits of organic farming, though most people think of the absence of pesticide and/or antibiotic residues first. For us it is also about the environment as a whole and by not using pesticides we have seen a transformation of the flora and fauna on the farm.
No herbicide usage means that all our crops have varying levels of weeds and wild flowers in them. These act as a habitat for a wide range of insects, small mammals and ground living birds.
We grow large areas of legumes such as clovers and vetches which, along with our own composted manures from our dairy herd and Earth Cycle composts, soil conditioners and topsoil from our recycling enterprise, provide natural fertility and humus to the soil.
Organic farming is also about maximising animal welfare, concentrating on the principle of prevention rather than cure. Organic means free-range and all our animals are grazed on fresh grass throughout the spring/summer/autumn period and fed home grown forage through the winter. All our feeds are, of course, GM free.
Whilst antibiotic treatments are sometimes used (the health of the animal always comes first), their use is never routine, and herbal and homeopathic remedies are preferred.
In 2017 we are embarking on a project to ultimately become entirely antibiotic free. There will be many aspects to achieving this including significant capital investment. We have been awarded a Leader grant which will make an invaluable contribution to this challenging but exciting project.
Our farming methods have been recognised and in October 2015 Managing Director of The Woodhorn Group, John Pitts was awarded Sustainable Farmer of the Year for his commitment to sustainability at the national Farmers Weekly Awards.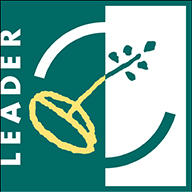 Woodhorn Organic Farming Development

The European Agricultural Fund for Rural Development
GALLERY